South Africa Certificate Attestation
South Africa Certificate Attestation
Suppose you are a South African citizen planning to migrate to the United Arab Emirates (UAE) for work, study, or other purposes. In that case, you must have your documents attested by the UAE embassy or consulate in South Africa. Document attestation is a mandatory requirement that verifies the authenticity of your documents and ensures that they are recognised and accepted by the UAE authorities.
Know More About UAE Embassy South Africa Attestation
Educational certificates (degrees, diplomas, and transcripts)
Birth certificates

Marriage certificates

Police clearance certificates

Medical certificates
If you are applying for an employment visa in UAE, you will need to have your academic certificates attested in South Africa; you will need to follow these steps:
Have the documents verified by the South African Qualifications Authority (SAQA). SAQA can verify your documents and issue a Verification Report, which confirms that your qualifications are authentic and administered by a recognised institution.
After the verification from SAQA, have the documents attested by the Department of International Relations and Cooperation (DIRCO) in South Africa. Attestation of a certificate is the process of verifying the validity and authenticity of a document and confirming that a recognised authority has issued it.
Have the certificates attested by the UAE Embassy in South Africa. The UAE Embassy will confirm the authenticity of the certificates and certify them for use in the UAE.
After the attestation by the UAE Embassy, submit the attested documents to the Ministry of Foreign Affairs Dubai (MOFA Dubai) for final attestation. MOFA Dubai Attestation is the final step in the attestation process, and it confirms that the UAE government has verified the documents to use for legal purposes.
For Document Attestation in the UAE, the Ministry of Foreign Affairs is the Federal authority to be contacted. In addition to this, you may also need to get your documents issued in South Africa and attested by other departments and governing bodies in UAE. In some cases, a legal translation is necessary for sure.
In conclusion, attesting South African documents from the UAE Embassy and MOFA in Dubai involves notarisation, authentication, and legalisation. Benchmark Attestation Services ensure timely document attestation in South Africa for UAE visa, so you can start working as soon as possible.
Contact us at +971 50 474 1340 to arrange the certificate collection – free of cost
It might be difficult to certify South African documents, as the procedure varies according on the kind of document you have and who you need to deliver it to. We've defined the steps that each document must take below to make things easier for you, but keep in mind that the steps for some papers may differ from this. Contact us for a free, individualized quote to ensure that we can give you the most accurate information possible.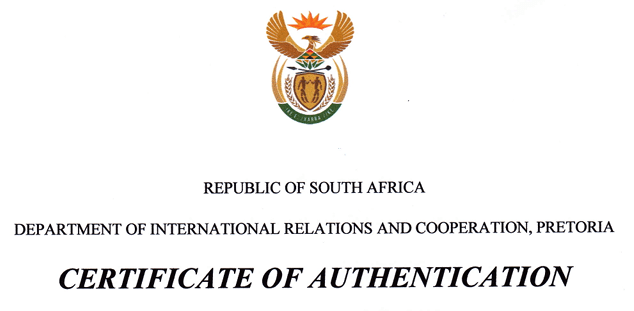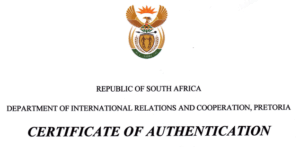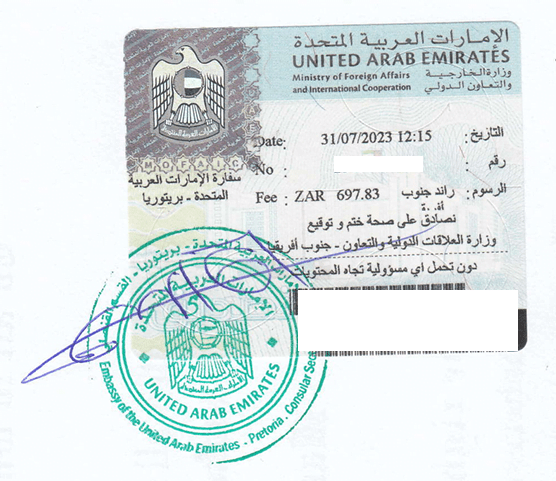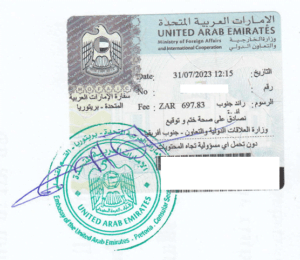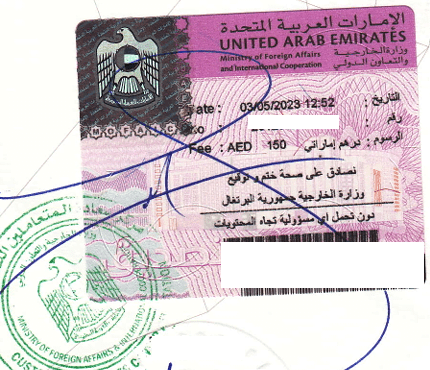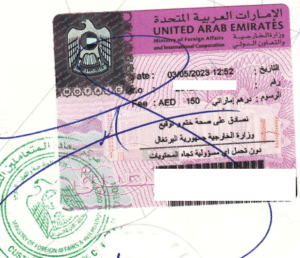 Translation from English into Arabic
Your paper may occasionally also need to be translated into Arabic. Again, it is best to check as your company may handle this for you. If necessary, an accredited professional translator from English to Arabic translates the entire document along with any pertinent stamps. When the translation is finished, all the necessary steps have been taken to ensure that it can be used in the UAE.
Translation from English into Arabic
You can count on our team to keep you updated at every step, so you're always aware of the progress.
If you need help with the attestation of South Africa Degree certificates in the UAE, contact our team by calling our UAE number 04-3961284 or our hotline at  +971 50 474 1340