French Certificate Attestation
French Certificate Attestation
French certificates need to be attested before you can use them in the United Arab Emirates. France, as one of the members of the Hague Convention, legalizes its documents through Apostille – can be used in 119 countries worldwide. However, the United Arab Emirates is not an Apostille country. Therefore, foreign nationals who want to work, live, and study in the UAE need to have their documents attested.
You need to complete the attestation from France for French certificates' full attestation, then the UAE attestation.
What Is The Procedure For French Certificates Attestation For UAE Use?
For Educational Certificates, French authorities will create a Certified True Copy of your certificate. It will be accepted for the attestation process and can be used abroad once it has been completed.
For Personal Certificates issued in France, only the Original Certificates are accepted during attestation. Certified True Copies of the personal certificate will not be accepted by MOFA France and the UAE Embassy in Paris. Each French personal certificate has only 3 months validity, and once invalid, it will be rejected for any attestation process. You need to request a new certificate.
After your certificates have been attested by the Ministry of Foreign Affairs in France, the next process will be attestation from the UAE Embassy. Without the UAE Embassy stamps on your certificate, the Ministry of Foreign Affairs in the UAE will reject your document for attestation.
After completing the attestation in France, the only attestation in UAE would be from the Ministry of Foreign Affairs. Once this is done, you can use your certificates legally in the UAE.
For more information, please contact our team, Benchmark Documents Services +971 4 396 1284, or our hotline +971 52 888 4714
It might be difficult to certify a French document, as the procedure varies according on the kind of document you have and who you need to deliver it to. We've defined the steps that each document must take below to make things easier for you, but keep in mind that the steps for some papers may differ from this. Contact us for a free, individualized quote to ensure that we can give you the most accurate information possible.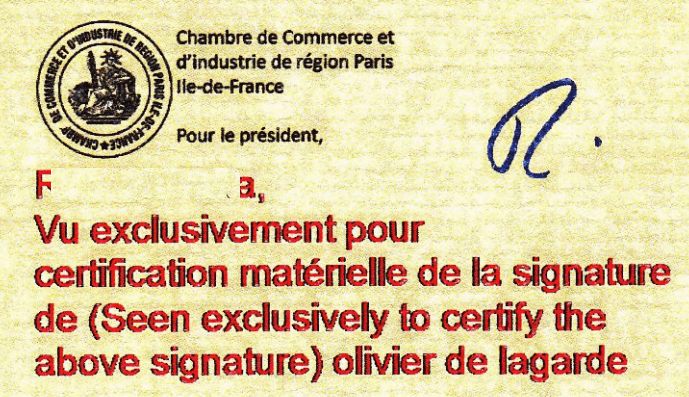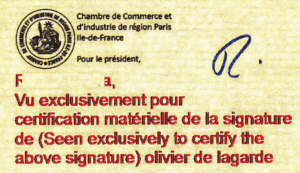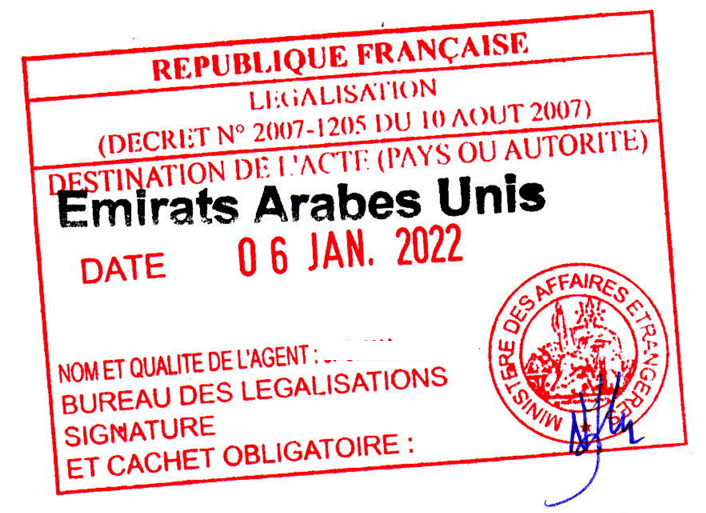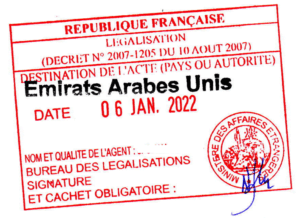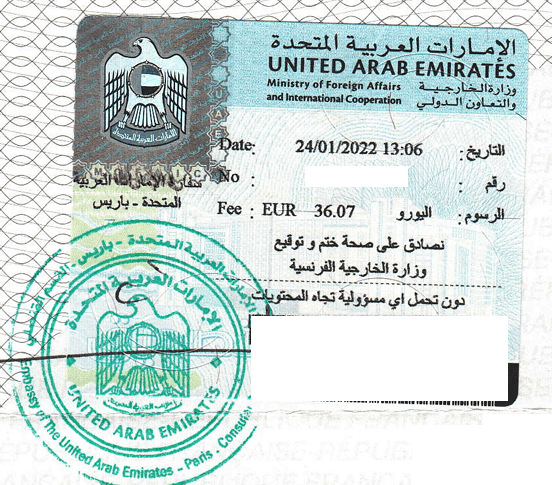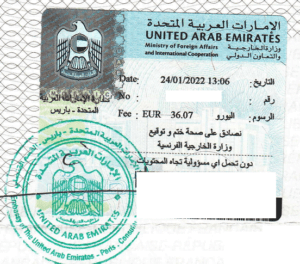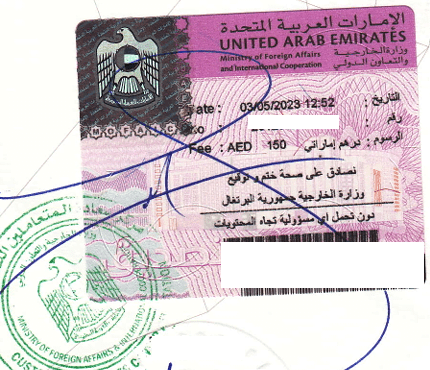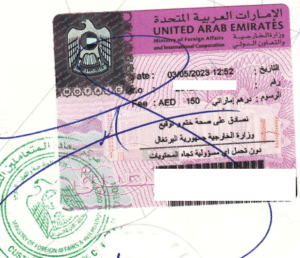 Translation from English into Arabic
Your paper may occasionally also need to be translated into Arabic. Again, it is best to check as your company may handle this for you. If necessary, an accredited professional translator from English to Arabic translates the entire document along with any pertinent stamps. When the translation is finished, all the necessary steps have been taken to ensure that it can be used in the UAE.
Translation from English into Arabic
French Certificate Attestation
More steps are involved in attesting French Certificates than those of other countries, so it takes slightly longer. In any case, we'll make sure always to keep you up-to-date with progress, so you know exactly where your certificates are at all times.
Because we're so detail-oriented, we've never had a rejection. When you hire us, you can rest assured that we will complete the job on time
If needed, we can even fast-track the process for you for an increased fee.
Feel free to get in touch with our team for more information. You can contact us by calling our UAE number 04-3961284or our hotline at+971 52 888 4714