A handful of nations don't require visas to enter South Africa for stays up to 90 days or 30 days. However, in order to enter South Africa, citizens of the nations below must apply for visas.
Afghanistan, Albania, Algeria, Armenia, Azerbaijan, Bahrain, Bangladesh, Belarus, Bermuda, Bhutan, Bosnia and Herzegovina, Brunei, Bulgaria, Burkina Faso, Burundi, Cambodia, Cameroon, Central African Republic, Chad, China, Colombia, Comoros, Congo, Côte d'Ivoire, Croatia, Cuba, Djibouti, Dominican Republic, DR of Congo, Egypt, El Salvador, Equatorial Guinea, Eritrea, Estonia, Ethiopia, Faroe Islands, Fiji, French Guiana, Gambia, Georgia, Ghana, Gibraltar, Greenland, Guatemala, Guinea, Guinea-Bissau, Honduras, India, Indonesia, Iran, Iraq, Kazakhstan, Kiribati, Kosovo, Kuwait, Kyrgyzstan, Laos, Latvia, Lebanon, Liberia, Libya, Lithuania, Macedonia, Madagascar, Mali, Mauritania, Mexico, Moldova, Mongolia, Montenegro, Morocco, Myanmar, Nepal, Nicaragua, Niger, Nigeria, North Korea, Oman, Pakistan, Philippines, Puerto Rico, Romania, Rwanda, Sao Tome and Principe, Senegal, Serbia, Sierra Leone, Slovakia, Slovenia, Somalia, South Sudan, Sri Lanka, Sudan, Suriname, Syria, Taiwan, Tajikistan, Timor-Leste, Togo, Tunisia, Turkmenistan, Uganda, Ukraine, Uzbekistan, Vietnam, Yemen.
Apply for South Africa Visit Visa from Dubai
Before you apply for your visa, you should be aware of the following:
The embassy will keep the original passport for stamping reasons.
A passport that has been m annually written, extended, or renewed will not be accepted by the Consulate General.
A visa is required for entry into South Africa for any newborns and children traveling with parents who are UAE citizens. Additionally, you must have their birth certificates with you.
If necessary, a vaccination certificate must be supplied.
Yellow Fever Certificate: This is only necessary if the applicant is traveling through or arriving from an area where yellow fever is endemic. However, this rule does not apply to applicants who are flying directly from Dubai to South Africa and who haven't recently visited or within the past year to a region with a yellow fever outbreak.
There must be at least two vacant pages in your passport for stamps at the entry and exit points.
A temporary ticket for a return or subsequent trip
Proof of custody and guardianship in the event of travel with a minor
Applicants may be required to submit a monetary deposit.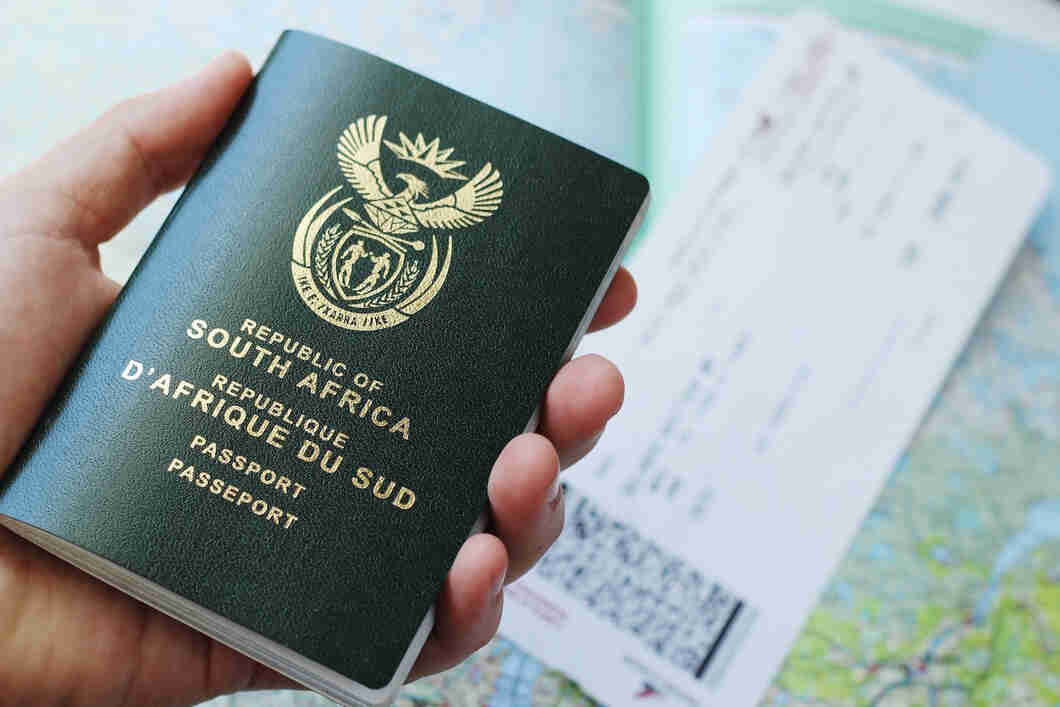 South Africa Visa Types
There are many visas available for South Africa Visit Visa from Dubai and tourist visas (also known as e-visas). These are based on how long you want to stay in South Africa.
Visa for tourism: For an E-Visa, applicants must fill out the application and pay the price online. Since one does not need to go directly to a consulate or embassy to apply for a South Africa visa, the processes are rather straightforward. The e-visa will be sent to the applicant via email after it has been approved, and passengers can use it to enter South Africa.
Visa for Visits: A visa for visits is excellent for:

People visiting from nations where visas are not required
Nationalities that are entitled to enter without a visa but want to remain after their allotted term of exemption
The visitors are permitted to stay for a maximum of 90 days.

Transit Visa: Travelers who will pass through South Africa on their way to one of its neighbors are granted a transit visa. If a traveler is not leaving the airport, it is not necessary.
Business visa: This visa enables visitors to enter the nation and remain there for up to 90 days for work or business. However, completing the B1-1738 form is essential for investments or business.
Documents needed for a visa to South Africa from Dubai
The following papers must be submitted in order to obtain a visa for South Africa from Dubai.
Original passport (valid for at least six months)
Form DHA-84, the completed visa application, must be filled out in black ink exclusively.
Visa for residence with a 90-day validity
Original NOC letter addressed to the South African embassy that includes the employee's designation, pay, joining date, and reason for travel.
3 modern photos (3.5*4.5 cm) with a white background
Latest bank statement available online with a bank stamp, or a genuine bank statement
A letter of invitation from a friend or relative is useful.
For a business visa, you must have an invitation letter.
A copy of the applicant's airline tickets, including any domestic flights, if they are flying within the same country.
Proof of a hotel reservation or other form of lodging
Evidence of travel and medical insurance
Also Read: Apply for Schengen Visa from Dubai
Contact Us
Feel free to get in touch with our team for more information. You can contact us by calling our UAE number 04-3961284 or our hotline at+971 52 888 4714