Grace Period: Within 60 days of its expiration date, a labor card or contract must be renewed. If your Labor Card's validity is fewer than 60 days, you may renew it early.
Visa Grace Period: Within 30 days of the expiration date, visas in passports and Emirates IDs must be renewed.
Tas'heel Center: The Tas'heel Center is where you may renew your labor card and labor contract. Through www.mohre.gov.ae, the status of an application can be checked by entering the MB number that is printed on the receipt.
New Rule: All new labor agreements are issued in 'limited' mode and have a two-year validity.
Documents Required for Renewal:
Copy of employee's passport
Copies of the company's trade license and labor establishment card
Authorized signatory's electronic signature card
Details about occupation, pay, and benefits Contract type (Limited/Unlimited), weekly day off.
Steps to follow: 
Type Tas'heel Center contract renewal form. Get the employee's signature and thumbprint (only for fourth- and fifth-skill level employees); place the corporate stamp in the First Party column; and then resubmit at the Tas'heel Center.
Fees:
Offer of employment Contract type: Dh153
Contract submission fee after mutual signature: Dh78
Workers with a fourth or fifth skill level (often blue-collar workers like laborers) should take a labor awareness class at Tawjeeh Center. Their fee for contract submission is Dh170.
Two-year insurance fee: Dh189/Dh263 (amount varies depending on profession)
According to the company category, the Labour Card charge is listed in the table below.
Labour Card/Contract New/Renewal Fee
Category-1
Category-2
Category-3
Dh250
Dh1290
Dh3551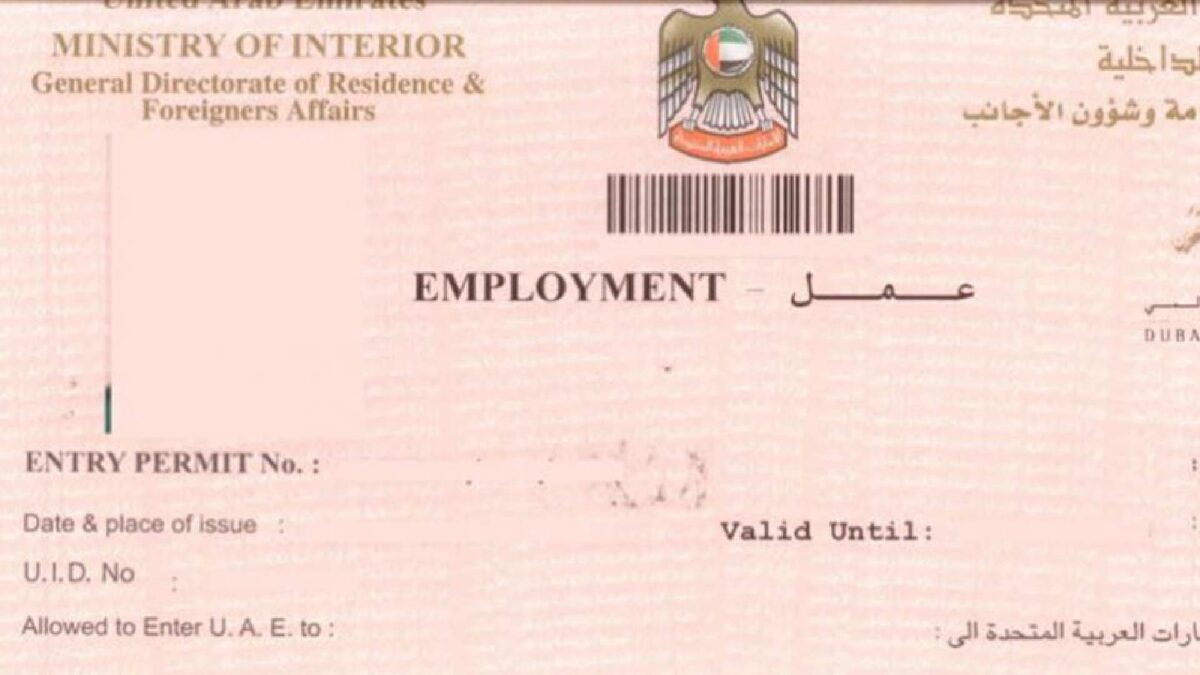 LABOUR CARD FEE
(for more than 65 years old)
Dh5206 + Normal Labour Card fee according to the Company Category (see above table).

Validity of Card: Two years.

EMIRATES ID
Dh385 (Can be typed from Typing Centre)
Medical
Dh320
(Form can be prepared from Typing Centre. Fees
varies depends on DHA/MOHAP)
Visa Renewal (two years)
500
(e-DNRD System. Typing charge extra. Form
can be typed from Typing Centre).
Unskilled workers should attend a Tawjeeh Center guidance seminar on labor laws and regulations. After attending the class, you will receive the Tawjeeh Centre's stamp on the contract renewal form. Type the contract renewal form from Tas'heel Center or Tawjeeh Centre. After that, you can either turn in this contract via Tawjeeh Center. Depending on your firm category (see table below), the cost of the advice lecture plus the labor contract renewal fee is Dh189/Dh263.
Visa Renewal: You can type your Visa Renewal at the AMER Center or the Typing Center.
Documents Required for Visa renewal
Original passport, medical certification, a white-background photocopy of the Emirates ID renewal form, and original passport.
e-Contract: You can print your renewed e-Labor Card and e-Contract at www.mohre.gov.ae.
MB number should be entered from renewal receipt. You can print it from Typing Center if you need it for a family visa.
Acceptable for delay: Dh200 each month, up to a maximum of Dh2,000, if the application for a new labor card is not submitted within 60 days of the date of arrival or a status change, or if the application to renew an existing labor card is not renewed within 60 days of the day it expires.
Older than 65 years: Till the age of 65, the labor card may be renewed for the aforementioned payments. After that, regular fees and an additional Dh5038 must be paid at the time of renewal. For each renewal, the validity of the labor card will be extended by two years. This renewal is perpetual until the business requires the services of such an employee.
Ministry of Labour   Timing: Saturday to Thursday 7:30am to 7:00pm
Contact Us
Feel free to get in touch with our team for more information. You can contact us by calling our UAE number 04-3961284 or our hotline at+971 52 888 4714