Dubai, United Arab Emirates, uses the electronic road toll system known as Salik (slk). End of 2007 saw its initial introduction by RTA (Roads and Transportation Authority). The Salik Toll Gate System makes sure that traffic moves smoothly throughout the Emirates.
The automated system scans the windshield for tags and deducts the appropriate amount from your Salik account.
You must have sufficient monies in the Salik account for this to happen. You must regularly Recharge Salik accounts, and you must check your Salik balance before you get behind the wheel to Recharge Salik. The good news is that monitoring your Salik balance is easy and just takes a few minutes. Let's start by giving you a quick rundown of the Salik registration process for Recharge Salik.
Where to find the Purchase Salik Tag:
Road and Transport Authority (RTA) sales location
Authorized retailers
Online Tag Buying
Fueling Stations (EPPCO, ADNOC, ENOC) in Dubai
Salik Requirements for Registration:
Mulkiya or the TC number from the car registration
8 digits for the tag number and 4 digits for the key number.
For text messages from Salik, a valid mobile number.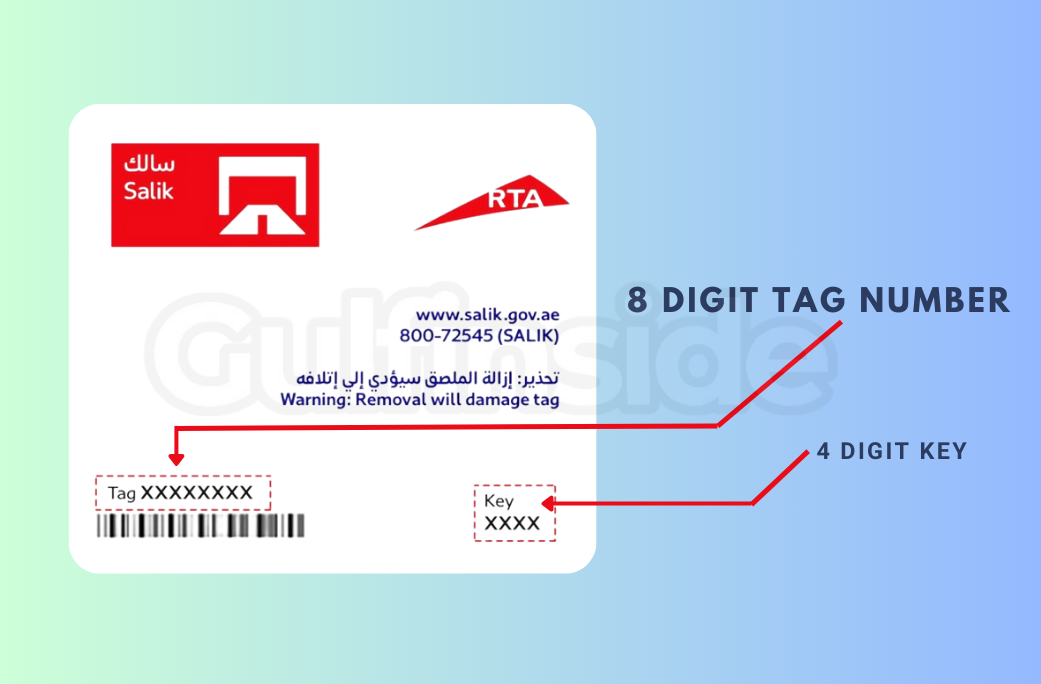 Methods of Salik Activation:
RTA Dubai Drive App (Apple – Android) is a third option.
Salik App (smart salik) (Apple – Android) is a second option.
Visit the Salik website at www.salik.ae/en.
The Dubai Now App https://dubainow.dubai.ae
Customer happiness center (location), method 5
Email to Customerservice@salik.ae email
Salik call center for the UAE (80072545) is method six.
Calling from abroad (+97142335000 + 97142335005) is method seven.
How to use the Salik Website and Activate Salik Tag?
Registrations for Salik are now paperless. You only need to purchase tags and follow the instructions below to activate it online.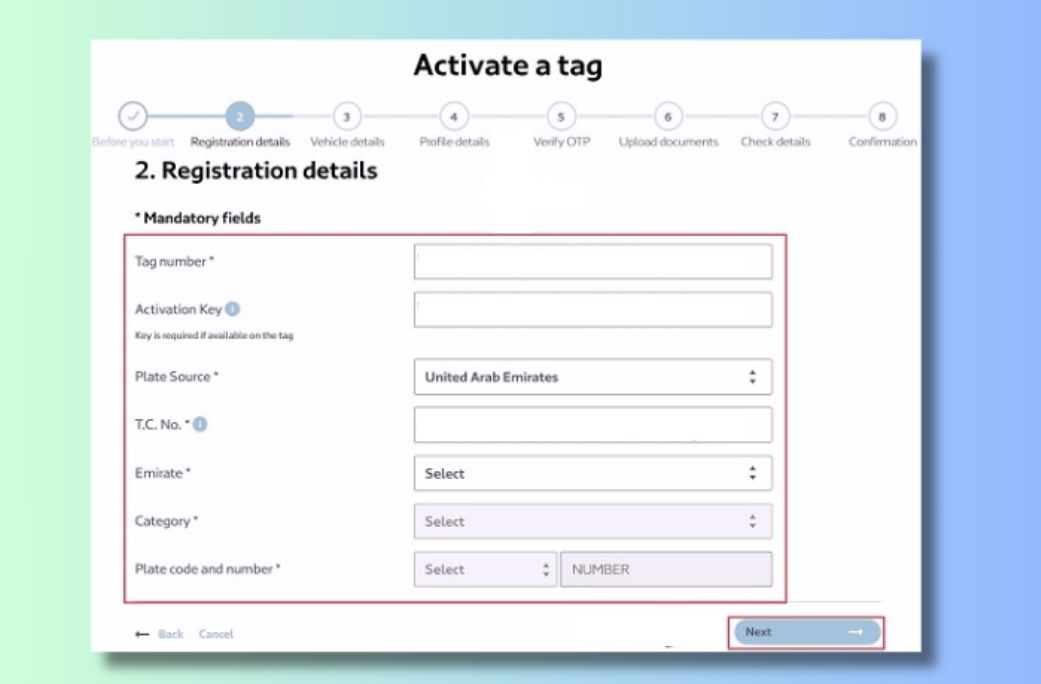 Find the tag number and key number by opening the tag.
Visit the official Salik website and then select "Activate a tag."
Enter your mobile number, the Salik tag number, and the Mulkiya TC number.
Select your vehicle category and emirates.
Choose a code for your license plate, then type in the number.
Select "Continue" (Next).
After checking the auto-detected vehicle's details, click the next button.
Make a note of any personal or business details, such as your email address and mobile number.
Send and verify the OTP.
Review all the information (car tags, for example) before submitting.
To get your account number to log in, confirm the confirmation via SMS or download the pdf file
Check Salik Balance Using SMS
Sending an SMS through the Salik system is one of the simplest ways to check your Salik balance. Follow these procedures to check your Salik balance by SMS:
Send a fresh SMS to your phone.
Send the text "SALIK BALANCE" to the number 5959.
In exchange, Salik will send you an SMS letting you know how much money is left on your account.
It costs nothing at all to check your Salik balance by SMS. In a matter of seconds, you'll be able to see your balance.
How to View Your Salik Balance on the RTA Website:
Through Salik's website, you may also see how much money is in your account. The procedures below can be used to check your Salik balance on the Salik website.
All you have to do is go to RTA's home website at https://www.rta.ae/wps/portal/rta/ae/home and search for "check salik balance online." To check your Nol balance, just enter your license plate number and the register's cellphone number. A pop-up window will appear with your available balance.
Note Only vehicles with Dubai Private plates can use this service; other vehicles cannot. Checking the account numbers will allow you to confirm the balance of any vehicles registered in other Emirates.
Also Read: UAE Visa Fine Check 2023 for Overstay
Contact Us
Feel free to get in touch with our team for more information. You can contact us by calling our UAE number 04-3961284 or our hotline at+971 52 888 4714