Check for Nol Card Validity
Nol Card ValidityWith only one tap, you can pay for a number of Road and Transport Authorities (RTA) transportation options in Dubai thanks to the Nol Card smart card. Each Nol Card has a specified expiration date that runs from the day it was issued.
It's essential to keep track of your card's expiration date if you want to fully benefit from Nol Card services. Services may be interrupted if it is not renewed on time. Keep track of your card's expiration date and be sure to renew it on time to continue utilizing the services without interruption.
The Nol Silver Card, Gold Card, and Blue Card are all valid for five years from the date of issue, but the Nol Red Card is only good for ninety days. Check out our dedicated post to learn more about the various Nol Cards that are offered, their features, authenticity, and other information.
At any of the ticketing machines and counters at Metro stations and parking meters in Dubai, you can verify the validity of your Nol Card.
The number of days before your Nol Card expiration is displayed when the holder enters their Nol card into the parking machine. It will also be shown to remind you to apply for a new card.
Additionally, cardholders are permitted to spend it up until their remaining credit expires. However, they won't be able to add more credit on the card.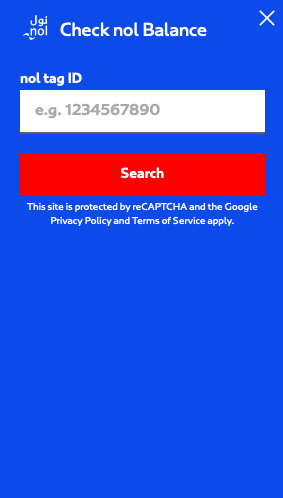 Each Nol Card includes a distinct Nol tag ID, which you may use to quickly check the amount of your Nol Card online. It only requires that you:
Go to 

Official RTA Website

. 

Click "Check Nol balance" on the webpage. 

Enter your Nol tag ID. 

Click "Search" to view your card balance.
Check the Nol Card history
You may quickly check the history of your Nol Card transactions online at the Nol website. All you need to do is carry out the actions listed below:
Also Read: Dubai Vehicle Fine Check 2023
Feel free to get in touch with our team for more information. You can contact us by calling our UAE number 04-3961284 or our hotline at+971 52 888 4714