How to Check for India Visa Validity Check 2023
All foreign nationals entering India must have a valid visa paperwork, which is a crucial requirement. The Indian Bureau of Immigration issues a number of different visa kinds with varying terms of validity.
Read on to learn everything there is to know about the duration of each type of Indian visa as well as how to check and extend the duration of an Indian visa.
For anyone wishing to visit the nation, the Indian government provides a wide range of visa options, including tourist, business, transit, job, student, and more. These visas have the following dates of validity:
A 30-day tourist visa is valid for one month.
A one-year (365-day) tourist visa
Three years 5 years for a tourist visa
Visa for transit: 15 days
5 year business visa
Employment visa: one year/contractual duration
Student visa: course length/five years
Indians who are foreigners 5 year visa for origin
Intern visa: no more than one year, or the length of the internship.
Film visa: the length of the shoot, as per the submitted schedule, or one year, whichever is less.
Entrance (X) visa: no more than one year. An entry visa may be granted for up to 5 years in some circumstances (primarily for those of Indian descent).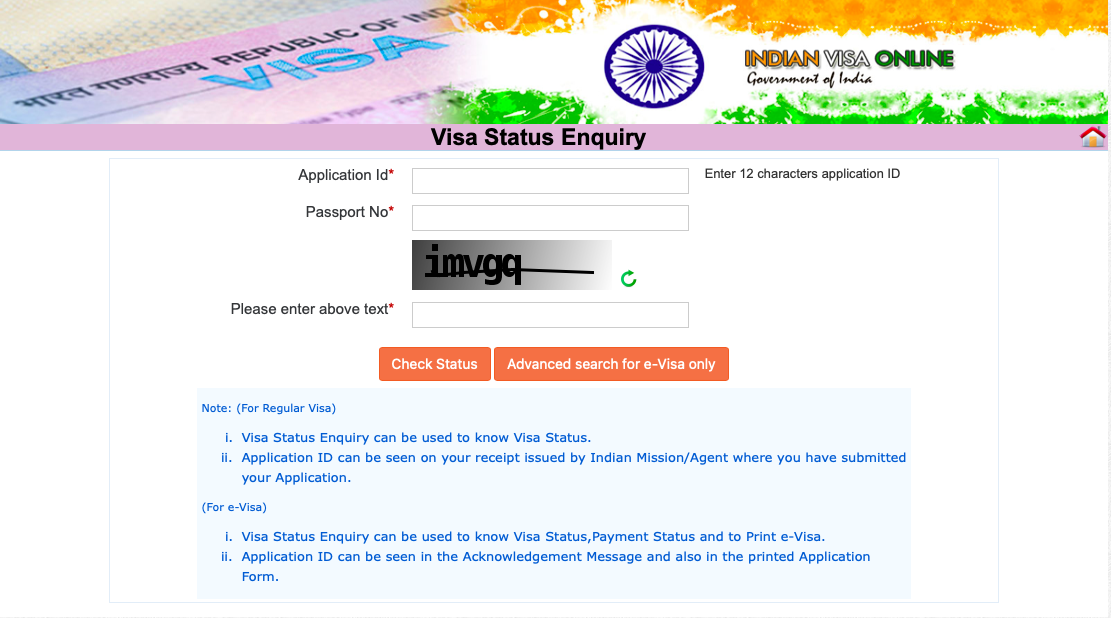 E-visas, also known as electronic visas, can be obtained for a number of reasons, including business, tourist, and medical visits. The type they fall under determines how valid they are:
30 day e-Tourist Visa
365 days from the day when an electronic travel authorization (ETA) was granted for an e-business visa.
30 days from the date of entry into India for an e-Conference visa.
60 days from the date of arrival in India for an e-Medical visa.
60 days after the date of entry into India for an e-Medical Attendant visa.
To check the status of your visa application:
You should go to https://indianvisaonline.gov.in/visa/StatusEnquiry.
Input the 12-digit, one-of-a-kind Application ID that can be found on the receipt issued by the Indian Mission or Agent where you submitted your application. The printed Application Form and the Acknowledgement Message for the e-visa both display the Application ID.
Your passport number in the box.
Enter the captcha code carefully.
Click "Check Status" for standard visa applications and "Advanced search for e-visa only" for electronic visa applications.
India Visa Validity extension period
You can extend the validity of your visa online, and the procedure is easy and clear:
Click this link to begin your online visa extension application: https://indianfrro.gov.in.
Create your user ID and password by logging into the portal online.
You can log in and submit an online application by selecting the right service and uploading the required papers after successfully creating a user ID and password.
You would have to pay the necessary price, if there is one, for the service.
Both of you would be properly informed whether or not your visa extension request was approved.
Also Read: Family Visa Services
Feel free to get in touch with our team for more information. You can contact us by calling our UAE number 04-3961284 or our hotline at+971 52 888 4714