Through the ICA Smart Services program, the Federal Authority of Identity and Citizenship is dedicated to providing seamless assistance to citizens, returning residents, and visitors to the UAE.
These services, which include the crucial Customer Voice Gateway (ICA Online Complaint), are meant to improve customer happiness and experience.
Customer Voice Gateway
The client Voice Gateway is a comprehensive service that effortlessly manages client complaints regarding all ICA services, both conventional and cutting-edge.
Customers can submit new application tickets, see their status, and get help from the Federal Authority for Identity, Citizenship, Customs & Port Security through its user-friendly web site, which is available in English and Arabic.
Ticket from Customer Voice Gateway – ICA Online Complaint
Customers can easily submit new application tickets for help or information on ICP services and apps using the customer voice gateway ticket service. Additionally, by following the procedures below, you can ask for a customer voice gateway ticket that allows a simple and fast submission method if you have a complaint.
Visit the system's login page at the official Customer Voice Gateway website.
On the home page, click the 'Create New Ticket' button.
Your own information, including necessary facts like customer information
To help with the analysis and resolution process, include all required information in the application or complaint and attach any pertinent supporting papers.
Customer Voice Gateway tracking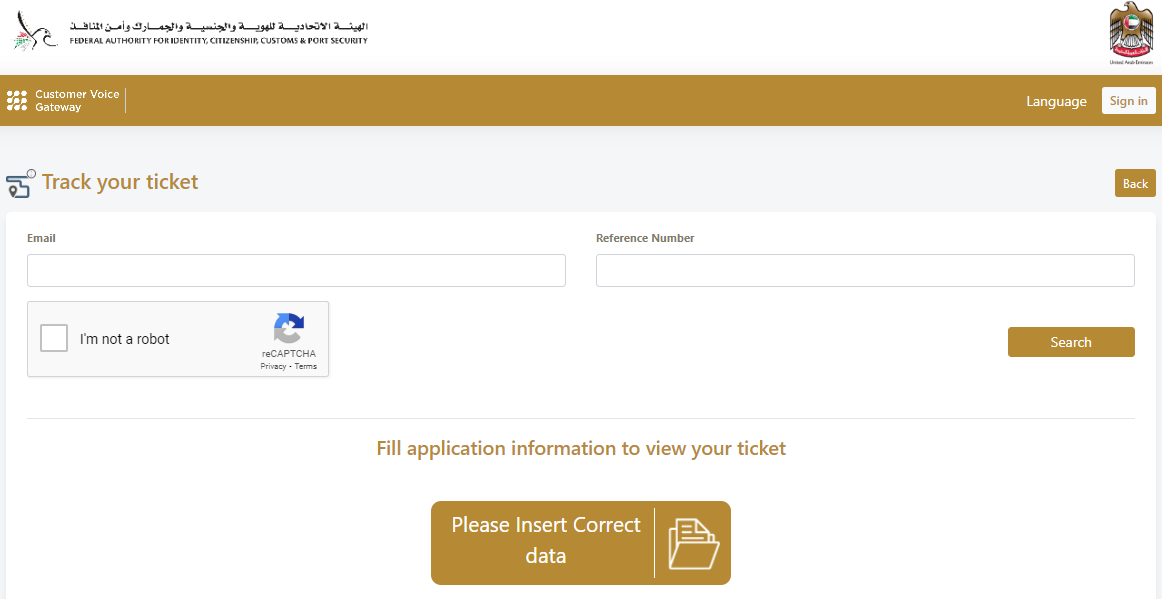 You will get an email with the specific complaint reference number after submitting your application, allowing you to follow your complaint.
Visit the official portal and select the 'Track Your Ticket' option to see the progress of your complaint. To check the current status and updates relating to your complaint, enter your email reference number.
Customer Voice Gateway Contact Details
Although the Federal Authority for Identity, Citizenship, Customs & Port Security does not have a specific phone number, you can reach them by calling their call center.
As an alternative, you can contact them by phone, email, or by going in person to one of their Customer Happiness Centers.
Contact Us
Feel free to get in touch with our team for more information. You can contact us by calling our UAE number 04-3961284 or our hotline at+971 52 888 4714