People from India, Bangladesh, Pakistan, and other countries in the GAMCA Health Organization expatriate program who want to work in the GCC must get a GAMCA (Gulf Approved Medical Centres Association) medical test result as part of the application process.
Making an appointment at a GAMCA center in Pakistan is a quick and easy process. By following the steps given, you can quickly and easily get your medical appointment, which will make your pre-departure medical examination go smoothly.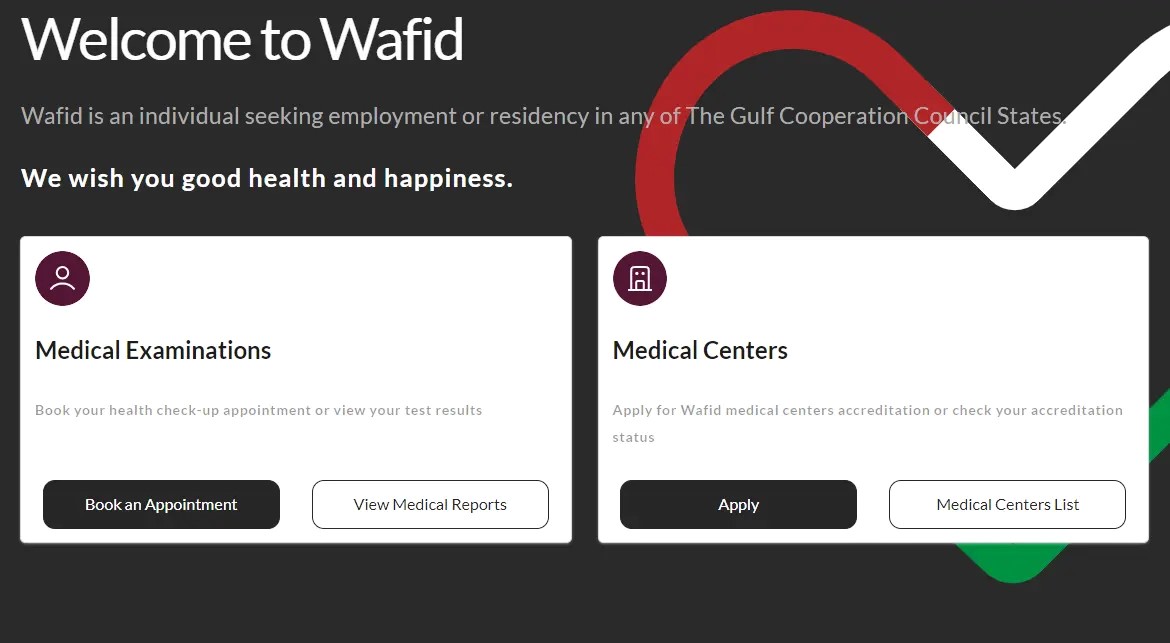 Open the Wafid site: Go to the Wafid website and find the Medical Examinations area. Then, click on "Book an Appointment."
Choose a location: After you put your location (your home country, city, and the GCC country you want to apply for), a medical center will be assigned to you automatically.
Type in your personal information: Fill in your information. Some of these are your full name, date of birth, gender, passport information, the type of visa (work or family), contact information, and job. Make sure the information given is correct, then click the "Save and Continue" button.
Send money: To pay for your doctor's visit, enter your credit card information on the next page. Then, click the "Pay" button to finish the transaction. You can choose to pay with Easypaisa, JazzCash, or a local bank transfer, depending on what's easiest for you.
Get confirmation of your registration: Once your payment goes through, you'll get a confirmation of your appointment with information about the date, time, and address of the medical center.
Get the GAMCA slip and go to the medical center that was assigned: Your GAMCA-Wafid medical slip will be made and sent to you by email and WhatsApp as a PDF file. You need to download the slip and bring it to the nearest GCC-approved medical center in Pakistan along with the other papers they ask for.
Medical exams and tests: Get the medical exams and tests that are needed.
Get and send medical report: You can check, download, and print your medical report online, then send it to the office or consulate of the country you want to visit.
GAMCA medical visit and what you need to do
You will need the following things to make your GAMCA or Wafid medical appointment at a center in Pakistan:
Original passport
Original CNIC
Four passport-size photos with a blue background
A single passport copy, either colored or in black and white
Two CNIC copies in black and white
Agency letter (only for KSA/Saudi work visa)
Covid-19 vaccination certificate
Lahore

Advanced Medical Diagnostic Center:Address: 9-B, College Block, Allama Iqbal Town, Lahore
Contact: +92 306 1104524
Email: advancedmedicaldiagnosticcentre@yahoo.com
Bestway Medical Clinic:Address: 77-G-2, Phase II, Main Boulevard, Johar Town, Lahore
Contact: +92 42 353110777
Email: bestwaymedicalclinic@gmail.com
Canal View Diagnostic Center:Address: 4 A/1 Noon Avenue, Old Muslim Town, Lahore
Contact: +92 42 35863341
Email: cvdc.626@gmail.com
Iqra Medical Complex
Address: 5-A Johar Town, Lahore
Contact: +92 42 35173800
Email: iqraamedicalcomplex@hotmail.com
National Diagnostic Centre: Address: House 409, Block G-4 Ma, Johar Town, Lahore
Contact: +92 42 35467664
Email: info@nationaldiagnostics.net
Paramount Medical Clinic:Address: 74/5 Usman Block, Garden Town, Lahore
Contact: +92 42 358612727
Email: paramountmedical74@gmail.com
Quest Medical Centre:Address: 13-13 A Aibak Block, Garden Town, Lahore
Contact: +92 42 35941996
Email: questmedica44@gmail.com
Taj Medical Travellers Clinic:Address: Building# 25 Civic Centre, Behind Sunday Bazar, Near LDA office, Main Johar Town Boulevard, Lahore
Contact: +92 42 35401681
Email: tmtc01@yahoo.com

Islamabad

RR Diagnostics Center:Address: Plot No 80-, Street No 54, I&T center G-9/4, Islamabad
Contact:+92 512808416
Email: rrdiagnosticpk@gmail.com
GCC Diagnostic Centre:Address: Building No. 1-A & 1-B, Street # 6, G-10/3, Ibn e Sena Road, Islamabad
Contact: +92 512352912
Email: gccislamabad@gmail.com
Shifa International Hospital:Address: 4 Pitras Bukhari Road, Sector H-8/4, Islamabad, Islamabad Capital Territory
Contact: +92 518463053
Email: saleem.m.janjua@gmail.com

Karachi

Al-Hilal Medical Diagnostic Center:Address: Bangalow# D-9, PECHS Block 6, Near Hotel Faran (Nursery) Shahrah-e-Faisal, Karachi
Contact: +92 21345373312
Email: alhilalmedicalcenter@yahoo.com
Al-Raed Medical Diagnostic Center:Address: House No.# 17-D, Block 6, P.E.C.H.S, Shahrah-e-Faisal, Karachi
Contact:+92 21343804808
Email: alraeddiagnostic@gmail.com
AL-Zaeem Medical Center: Address: Icon Tower, Ground Floor, Plot # 84C, 24th Commercial Street, Phase 2 Extension DHA, Karachi
Contact: +92 21353803212
Email: alzaeemmedical@gmail.com
Medical Diagnostic Clinic:   Address: Bungalow No. 9-B, P.E.C.H.S (Nursery), Block No. 6, Near Hotel, Faran Shahrah-e-Faisal​, Karachi
Contact: +92 2134389130
Email: mdckhi99@gmail.com
Sahil Medical Center:Address: 82-C, 13th Commercial Street, Phase II, Extension DHA, Karachi
Contact: +92 2135313957
Email: sahilmedicalkhi@gmail.com
Taj Medical Center:Address: Bungalow # 14-E,Block 6, P.E.C.H.S, KFC LANE Off Main Shara-e-Faisal, Near protector of Immigrant Office, Karachi
Contact: +92 213430007
Email: tmc_khi@yahoo.com

Rawalpindi

Allied Diagnostic Centre:Address: D-845 Fifth Road, Satellite Town, Rawalpindi
Contact: +92 518897497
Email: info@allieddiagnostic.net
Bismillah Diagnostic Center:Address: Main Peshawar Road Near Riwaj Marriage Hall, Rawalpindi
Contact: +92 515472193
Email: bismillahdiagnostics@yahoo.com
Federal Diagnostic Center:Address: B-399, Rawal Plaza, 4th-B road, B-Block Satellite Town, Rawalpindi
Contact: +92 518442592
Email: info@federaldiagnostic.com
Global Medical Center:Address: Plot No. B-730, Al-Rahim Arcade, Satellite Town, Rawalpindi
Contact: +92 518312883
Email: admin@globalmedicalcenter.pk
​Gulf Medical Center:Address: House no 67 Asghar Mall Scheme, Alhannan Road, Rawalpindi
Contact: +92 518313601
Email: gulfmedical0202@gmail.com
Khaleej Diagnostic Center:Address: 284/2, Raja Akram Road Near Race Course Road, Rawalpindi
Contact: +92 515124978
Email: kdcrawalpindi@gmail.com
Reliance Medical Lab:Address: D-975, D-Block, Satellite Town, Rawalpindi
Contact: +92 518312881
Email: admin@reliancemc.pk
Sapphire Medical & Diagnostic Center:Address: 11-D/1, 6th Road, Satellite Town, Rawalpindi
Contact: +92 514848811
Email: sapphiremc52@gmail.com
Taqwa Medical Center:Address: Jawad Plaza, Opposite IJP Metro Station, IJP Road, Rawalpindi
Contact: +92 514856682
Email: taqwamedcentre@gmail.com
​Urgent Diagnostic Services:Address: 101-A, Main 6th Road, Satellite Town, Muree Road, Near Alladin Fun House, Rawalpindi
Contact: +92 514933351
Email: umdc@hotmail.com
Medical costs for GAMCA Pakistan
Fee for an appointment slip: 4,000 PKR
The normal cost of a medical test is PKR 17,000
Fee for an urgent medical test: PKR 18,000
Check the progress of the GAMCA medical report
The main goal of the GAMCA medical report is to check on the health of expats and make sure they are fit to work. In Pakistan, you can use either your passport number or the number on your medical slip to get to your GAMCA test results on the Wafid website.
Check out our piece on how to check your report online using both your passport number and your slip number for a step-by-step guide.
Also Read: What medical examinations are conducted at GAMCA?
Contact Us
Feel free to get in touch with our team for more information. You can contact us by calling our UAE number 04-3961284 or our hotline at+971 52 888 4714