You will probably need to apply for a visa if you intend to visit Jordan. However, Jordan's visa regulations are extremely lax, and the majority of visitors can simply get a visa on arrival.
Despite the fact that Jordan is a small country, there is a lot to do and see there. Jordan is a true delight for anyone who wishes to feel as though they have just stepped back in time, even though the city of Petra is the most well-known tourist destination and is on the bucket lists of the majority of people when they are organizing their trip. The numerous ancient civilizations that have inhabited Jordan over the millennia have left behind countless ancient ruins.
However, because you're probably already enthralled by Jordan's allure if you're looking for information on how to apply for a visa, we'll provide a thorough explanation of its visa regulations instead.
Is a Visa Required for Jordan?
The majority of people will need a visa to enter Jordan, with the exception of nationals of:
Bahrain (

for up to 3 months)

Egypt (

for up to 1 month)

Israel (

for up to 1 month)

Kuwait (

for up to 3 months)

Lebanon (

for up to 3 months)

Oman  (

for up to 3 months)

Palestine (

for up to 1 month)

Qatar  (

for up to 3 months)

Saudi Arabia
Turkey (

for up to 3 months)

Tunisia (

for up to 2 months)

United Arab Emirates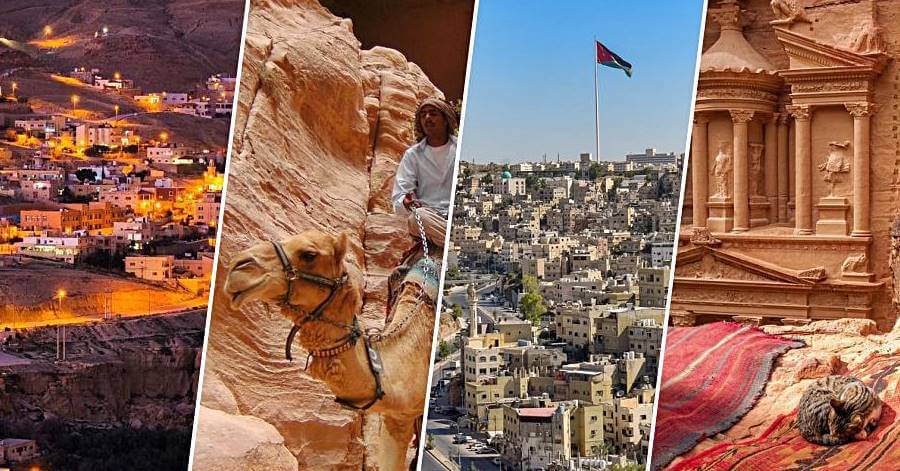 Who is Eligible for a Jordan Arrival Visa?
You are able to apply for a Jordan visa on arrival if you are from one of the nations listed below:
Algeria
Andorra
Antigua and Barbuda
Argentina
Armenia
Australia
Austria
Azerbaijan
Bahamas
Bahrain
Barbados
Belarus
Belgium
Bolivia
Bosnia and Herzegovina
Brazil
Brunei
Bulgaria
Canada
Cabo Verde
Chile
China
Costa Rica
Croatia
Cyprus
Czechia
Denmark
Dominica
Dominican Republic
Ecuador
Estonia
Fiji
Finland
France
Georgia
Germany
Germany
Guatemala
Guyana
Guyana
Haiti
Netherlands
Honduras
Hong Kong
Hungary
Iceland
Indonesia
Ireland
Israel
Italy
Jamaica
Japan
Kazakhstan
Kenya
Kiribati
Kosovo
Kuwait
Kyrgyzstan
Latvia
Lebanon
Lesotho
Libya
Liechtenstein
Lithuania
Luxembourg
Macau
Malawi
Malaysia
Maldives
Malta
Marshall Islands
Mauritius
Mexico
Micronesia
Monaco
Montenegro
Morocco
Nauru
New Zealand
Nicaragua
North Korea
Norway
Oman
Palestine
Panama
Paraguay
Peru
Poland
Portugal
Qatar
Romania
Russia
Rwanda
Saint Kitts and Nevis
Saint Lucia
Saint Vincent and the Grenadines
El Salvador
Samoa
San Marino
Sao Tome and Principe
Saudi Arabia
Seychelles
Singapore
Slovakia
Solomon Islands
South Africa
South Korea
Spain
Suriname
Eswatini
Sweden
Switzerland
Syria
Taiwan
Tajikistan
Thailand
Tonga
Trinidad and Tobago
Tunisia
Turkey
Turkmenistan
Tuvalu
United Arab Emirates
Ukraine
United Kingdom
United States
Uruguay
Uzbekistan
Vanuatu
Vatican City
Venezuela
Zimbabwe
Obtaining a Jordanian visa at the airport
At the airports of Aqaba and Queen Alia, as well as the majority of border crossings with the exception of the King Hussein/Allenby Bridge, you can apply for a Jordan visa upon arrival. Nothing else has to be done prior. When you get to the airport or entrance point:
Get close to the Visa on Arrival booths. Normally, there are two immigration officers on duty. One will inquire about your itinerary, and the other will check your paperwork and stamp your visa.
In addition to submitting your passport, return ticket, and hotel reservation, you must also pay the JOD40 (Jordan Visa on Arrival) charge. Make sure you have the required amount of cash on hand.

You might wish to bring your bank statements with you since they can inquire if you have enough money to support yourself.

Once your visa is stamped, you can enter Jordan.
Jordan Visa on Arrival Duration
A Jordan visa on arrival is granted for a single entrance and a maximum of 30 days. You must apply for an Embassy visa, which can be awarded for single-, double-, or multiple entry and permits a stay of up to six months, if you want to stay longer.
Jordanian visa fees upon arrival
JOD 40, or around $56, is the cost of a Jordan visa obtained at the airport.
Jordanian Visa Requirements
A passport, which is valid for at least another six months and has at least two blank pages.
Proof of an onward travel ticket
Proof of accommodation
Proof of sufficient financial means to sustain yourself during your stay
Enough money to pay for the visa fee
If staying for longer than 30 days: Proof of negative HIV test
If applying at an Embassy, you will also need any documents that they ask for, depending on your reason for travel. E.g.

Business letter, if travelling for business purposes
Proof of academic and work experience, if applying for a work visa
Proof of enrollment in a Jordan university, if applying for a student visa
Does the Jordan Pass Make Sense?
Consider the following factors before determining whether to purchase the Jordan Pass:
Do you intend to spend more than three nights? Only if you want to stay in Jordan for more than three nights is the visa fee exempt; otherwise, you must pay the charge at the time of departure.
Are you going to Petra? For a one-day visit, the entrance price to Petra is approximately JOD 50 (roughly US$70), JOD 55 (roughly UD$78), and JOD 60 (roughly US$85) for a three-day visit. You will see that even if you only visit Petra and don't travel anywhere else, you are still getting your money's worth (and saving about $28 too) when you take into account the cost of the Visa on Arrival (US$56).
How many places on the tourism trail do you intend to visit? More than 30 locations are free to enter with the Jordan Pass (see list below). It is not worthwhile to get the Pass if you have no plans to visit any of them, not even Petra.
Are you on a pre-planned tour when you're traveling? If so, you have already paid for the visa because the cost of the Visa on Arrival is frequently covered by the tour package. It might not be worthwhile in this situation to obtain the pass as well.
How Do I Purchase a Jordan Pass?
Through the official Jordan Pass website (here), you can purchase the Jordan Pass online before your trip. Payment must be made using a credit or debit card. The Jordan Pass will be sent to you in PDF format, which you may print out, along with an electronic copy that you can store on your phone. Show the Pass whenever you enter a new attraction, in either format.
There are also private businesses that can assist you with the Pass application; however, they will charge an additional service cost. Check the reputation of the private company if you decide to apply through it.
Contact Us
Feel free to get in touch with our team for more information. You can contact us by calling our UAE number 04-3961284 or our hotline at+971 52 888 4714